* สคริปต์เลียนแบบ Final Fantasy VII ที่พอตัวละครมี HP เท่ากับ 7777 จะโจมตีได้แดมเมจ 7777 ตลอดครับ เห็นว่าเป็นระบบที่ฮาดี แอบเอามาใส่เกมก็เป็นระบบเล็ก ๆ ที่ช่วยให้คนเล่นสนุกขึ้น (ตอน HP เหลือ 7777 พอดีนะ หุหุ) ข้อเสียอย่างเดียวคือสคริปต์นี้ใช้ SDK นะครับ ดาวน์โหลดสคริปต์ได้ที่นี่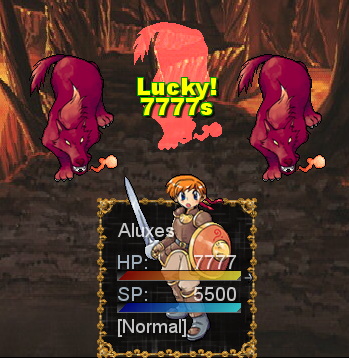 I found this nice script when I walked around in rmxp.org as usual. It is the script resembled the system from Final Fantasy VII when the actor can deal 7777 damage everytime if he/she has exactly 7777 HP. I think it is a good little feature to add in your game to entertain the player.
This script needs SDK by the way. The only part is needs for this script is: "PART 2#GAME_BATTLER"
Enjoy~^^